Hiking on Town Marsh island

page 3, continuing . . . .
My Wild Horse Photo Safari on the Crystal Coast

The third day of my personal safari started as early as the others. But today I would be joining Bob Decker's Crystal Coast Wild Horse Photo Safari, a photographers' guided tour to the Shackleford and Beaufort wild horses. I had to pack up my gear differently since instead of kayaking, I'd be hiking on dry land..... well somewhat dry..... uh, actually some of it a foot or two, or maybe three, under water, but still I'd be hiking. But now I'd have an experienced guide who was intimately familiar not only with the area, but with the horses and their habits.


The horses soon put on a show for the photographers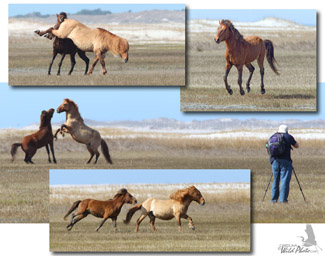 | | | |
| --- | --- | --- |
| Morning Safari: | | Hiking Town Marsh island and tidal marsh on Rachel Carson Estuarine Reserve |

I met up with the safari group on the Beaufort waterfront. There was guide Bob Decker, and Jim from Connecticut, and Jeff from Florida. The four of us donned our camera packs, grabbed our tripods and headed down the street to take a passenger ferry the short 250 yard hop across Taylor Creek to Town Marsh. A little morning fog promised to add to the atmosphere for our photography before it burned off with the bright sun that was to come.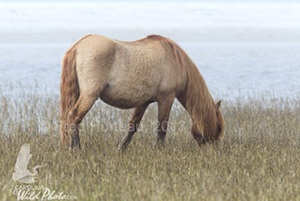 Morning fog on the first day softened the landscape



Once on the island, we hiked perhaps ten minutes through cedar trees until we came out on the edge of the marsh. Two horses were there grazing in the fog, offering our first shots of the day. Soon more wandered our way while we drifted toward them, eagerly clicking off shots. Before long the sun brightened through the thinning fog as we hussled about choosing angles and clicking away.
Within minutes a young stallion in the group began putting on quite a show for us. He apparently had a serious case of spring fever, and tried with all his might to pick a fight with an older blonde stallion. He galloped and pranced and harrassed the older stallion for a good ten minutes, much to the delight of all present, who were making the most of the action, rapid-firing shot after shot.

Wild horses on the move
Shadowing the wild horses on the tidal flats of Town Marsh
Shackleford's wild horses near Cape Lookout Lighthouse



After this youngster finished burning off his excess energy, he settled down. Soon our group of horses moved eastward, farther out onto the flats. They joined other horses already out grazing, so we shadowed them, setting up here and there to take more shots of their activities.

Photographing wild horses on the tidal flats



We spent the entire morning following the herd about the tidal marsh, watching and learning while we photographed them. As the morning transitioned toward noon the light grew harsher, and it became time to head out to the pickup point for the ferry ride back to the Beaufort waterfront. There we packed up and drove to Harkers Island for our afternoon of photography of the wild horses on Shackleford Banks. On the way we stopped for a great lunch before catching another passenger ferry for our ride out to the east end of Shackleford Banks, across the sound from the Cape Lookout Lighthouse.



Afternoon Safari:
Hiking the dunes and tidal marsh of
Shackleford Banks at Cape Lookout
Photographing a black-maned beauty on Shackleford Banks


The wild horses on Shackleford Banks can sometimes be more difficult to find than on Rachel Carson Estuarine Reserve. While there are three to four times more horses on Shackleford, they are spread out across a much larger area, and their family groups, or I suppose the stallions in any event, seem to be more aggressively territorial. Visitors to Cape Lookout Lighthouse, which is directly across the sound from Shackleford Banks, can often see small groups of the wild horses on the easternmost tip of the barrier island. If that's not the case for us on this trip, it could become "iffy" finding them.

Stallion "6N" and mare "17K"
The author (standing) photographing at Shackleford
photo by Jim Esslinger

Trekking Shackleford near the iconic Cape Lookout Lighthouse

As our passenger ferry approached Shackleford, it was evident that we would have to go looking on this trip. Today there were no horses on the tip of the island where our boat would drop us off. This is one of those times when an experienced guide comes in very handy. Bob knew the most likely hangouts, having been here many times. We unloaded our gear and followed Bob along the shoreline a short way before turning inland along the edge of a tidal marsh. In just a few minutes we spotted horses not far ahead.
Many of the Shackleford horses are numbered with a "freeze brand" which turns the hair white, allowing researchers to easily identify and track them for scientific study. They seem to exhibit territorial habits that are believed to be unique among all the horses on the planet.
The group we encountered included stallion "6N" and mare "17K", a strikingly handsome pair with long, thick black manes and tails. With them was their colt, who seemed quite curious about us. The colt was not yet marked with any identification.
We moved on in search of more horses, winding our way from the tidal marsh, out across the island's dunes, but didn't find any more family groups within range. With such a "hilly" nature to the island's landscape, horses could be just thirty feet away on the other side of a dune and you might never realize it. Finally we turned for the beach, on the off chance there were some horses there, but there were no more to be found within sight distance. We made our way along the beach to the pickup point and talked about what awaited us the next day while we watched for our boat. It would be a full day of exploration, from sunrise to sunset, with a chartered boat to take us places we couldn't get to by other means. That was going to be special.